Service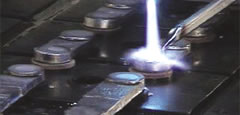 Mine Battery Service, the service and repair arm of MPS, has seven in-the-field servicemen. Five work out of our Beckley, West Virginia headquarters, while the other two are based in Grundy, VA. and Clintwood, VA, respectively.
No matter where you are or what time it is, we are serious about service. For anything you might need, just call us and we will be there.
MBS offers battery maintenance and repair classes at our Beckley plant or at the customer's mine site. Ranging from a 15-minute basic care course to a half-day battery and charger theory class, we train to suit our customer's needs. In fact, for the past six years we have given the inspector's battery class at the Federal Bureau of Mines national training facility in Beaver, WV.
We are also the only battery company that will track your battery costs for you. At the customer's request an MBS service man will survey every battery at a mine site and assign each a serial number. We then create a database that reflects the amount of money you spend on battery repairs. This makes it easy to know when a battery should be replaced instead of repaired.